Chief Instructor, Ueki Masaaki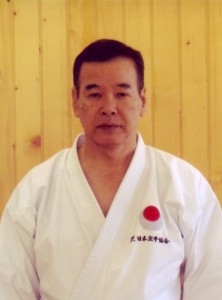 Master Ueki Masaaki who succeeded the second chief instructor Sugiura, and inaugurated as the third chief instructor. Since high school, he studied under Master Sugiura(the second chief instructor), then went on to Asia University. Soon after graduation, he joined the Japan Karate Association as the sixth trainee and later got excellent results in numerous competitions. As the head instructor of the headquarters, he was devoted to the development and instruction both within and outside Japan. He served as executive director since July 22, 1995 and greatly contributed to the development of the Japan Karate Association. He was inaugurated as the third chief instructor from May 29, 2010 up to present.
Career
1956
Studied under Kimonenba Dojo (now, Koganei Branch) Master Sugiura.
1961
Graduated from Asia University
1961
Joining the Japan Karate Association (6th trainee)
1965
1968
1971
Shining in the crown of overall victory
1995
Inaugurated Managing Director
2010
Karatedo 9th Dan awardee
2010
Inaugurated as the third principal chief instructor