"Type" of Karatedo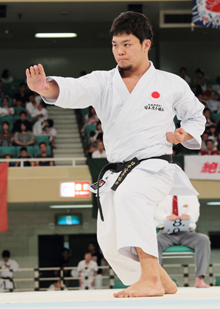 There are many characteristics and attractions of Karatedo as a Japanese movement culture, but one of them has a traditional "mold".
Japanese have inherited "heart" and "technique" by their own excellent tradition of "type", learning methods. The "type" of Karatedo is to be played by one person, regardless of each person's physical strength and abilities, age, sex and congenital qualities, practicing at their own pace according to the ability and physical strength anyone has now can do. This is one of the big features of karate way not found in other martial arts.
By practicing "type", we will harmonize our mind and body and move the body approximately evenly, front to back, left and right, up and down. Moreover, in order to make full use of muscle which is not used much in normal movement, it becomes an ideal whole body movement for children of early childhood and encourages the development of balanced body.
Also, by understanding this "type" correctly and practicing seriously, you can cultivate concentration.
Health Maintenance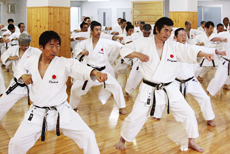 Recently, there are an increasing number of middle-aged and older adults with young people. In the case of middle-aged and elderly, they move slowly with conscious of breathing and posture so as not to put excessive burden on the body. By slowly deeply repeating abdominal breathing, the diaphragm relaxes and stretches, the signal from the muscle spindle caused by it is transmitted to the hypothalamus, and due to the function of the hormone in the brain, B endorphin and serotonin, the comfort and relaxed state can be achieved. In addition, the oxygen uptake also increases, efficiently incorporating fresh oxygen into the body increases immunity and leads to health maintenance.
Humanities Education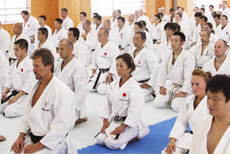 In this way, Karatedo education, which has been cultivated in the Japanese tradition, refines the mind through the practice of techniques. Effects on humanities education that cultivates social skills such as courtesy, courage, patience, introspection, introspection, altruism, cooperativeness, compassion and high virtue through cultivating the body and attitudes that respect for tradition and courtesy.
Currently, the Japan Karate Association has about 1000 branch organizations nationwide including branch dojo, business association, university, high school, junior high school, sports club etc.
And with all branch organizations, the instructor qualified by the Japan Karate Association officials is able to give reasonable and detailed instruction according to your purpose, age, physical fitness, gender, and growth process, so that everyone will be satisfied I work hard every day to learn.
Beginners