JKA Portugal 2012 Autumn Course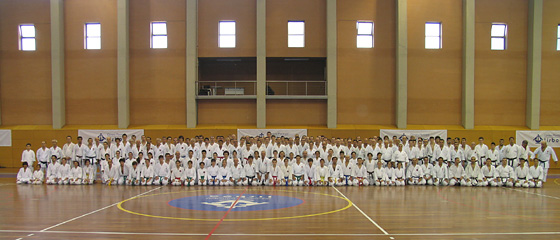 It was held in Lisbon, from 31 October until 4 November. The Honbu Instructor that was invited for this course was Naka sensei.
In 31 October and 1st and 2nd November the Course was directed to 50 JKA Portugal instructors with special training dedicated to children teaching methods. Naka sensei's approaching methods for teaching Karate to the children and to the adults were highly prized for everyone.
In this decade, we are assisting to a crescent interest from society to choose JKA Karate has a important contribution of the education of his children. We feel that this is very important to prepare the future practitioners to not be absorbed only by the limited Sports Karate and dedicate his training to the developing of themselves throw the Do of the Karate.
In 3 and 4 November the Course had the participation of 185 children under 12 years old and 240 with ages above of it.
Even in the difficult times that Portugal economy is facing, bringing to the citizens the necessity of cutting in not basic expenses, nevertheless, we could have the participation of so many people from 4 to more than 70 years old enjoying JKA karate training.
This fact shows the big influence that our Karate has in people from all ages, making us feel very proud of been part of JKA World Family and to have the chance of bringing everytime to our country good Karate Instructors, each one with their own expression of the same Karate that we are practicing.
Oss
Jose Pacheco
Photo Gallery