JKA England Spring Course 4th to 7th May 2012 Crawley England

This year's JKA England Spring Course was one of the best ever. Taking over from the once famous Crystal Palace Courses of Enoeda Sensei, we have now been holding the JKA England Spring Course for nearly 10 years. Hosted by our Chief Instructor Ohta Sensei 7th Dan we were honoured to have some of the most respected Instructors in JKA to teach our eager students.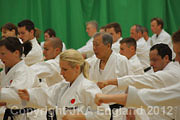 Tsuyama Sensei 8th Dan a JKA Technical Adviser and karate coach for Takushoku University for over 30 years brought a sense of tradition and discipline. His basic punch and mae geri combinations were excellent and provided a great teaching aid to pass on. The 45 degree rapid punching was a memorable favourite for most students. Correctly so, the focus was on getting the basics in place, good posture, footwork, power and relaxation in the right places.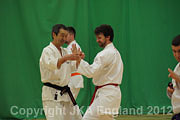 Osaka Sensei 8th Dan JKA Vice-Chief Instructor and General Manager of the Technical Division brought as always his world famous humour and technical excellence, focusing on the finer points of Bassai Dai and Jion with great effect.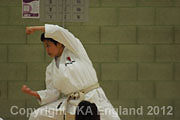 Hirayama Sensei 6th Dan, an All Japan Champion inspired us all with her energy and particular vision of how we can all improve our karate. She gave some excellent tips on Bassai Sho and Sochin with inspiring advice on turning combined with beautifully demonstrated techniques. In addition she was a fantastic role model for our female students in a mostly male world.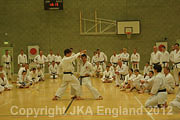 Ohta Sensei 7th Dan and Chief Instructor of JKA England always brings something special to the Spring Course and took classes with Chinte and Gojushiho Sho. His technical accuracy and phenomenal demonstration of the kata was as ever astounding.
Over 700 students attended this year's course with many training for all 4 days. As always, the JKA England Spring Course attracts karate-ka from far and wide. This year was no exception with participants from Norway, Scotland, Switzerland, Ireland, USA, Estonia, Germany, Malta, Italy, Poland, France, Turkey and of course England. All came together for 4 days of hard training combined with friendly competition. The party on Sunday night was great fun and went on until the early morning but after a good breakfast everyone still trained hard on Monday.
JKA England has always encouraged other associations to come along and train at our International Courses. We are very proud of the JKA and use this opportunity to showcase the talent we have available to us as JKA members. We are already planning our Autumn International Course from 28th September to 30th September and we are lucky enough to have teaching Ogura Sensei 7th Dan from JKA Headquarters who was also an All Japan Champion and Sawada Sensei 7th Dan from the JKA Europe Technical Committee.
We look forward to making new friends and meeting old friends again very soon.
Oss
JKA England