【Indonesia】 JKA Indonesia Activities 2017 – 2018
JKA Indonesia Activities   2017 – 2018

2017
The main activities of JKA Indonesia was the regular training sessions (weekly) at each dojo. At JKA Indonesia's Bulungan dojo Jakarta, the training was directly led by Suyana sensei every Saturday morning. The class focuses on trainings of Kihon, Kata and Kumite techniques, in follow with JKA HQ standard.
On July 30, 2017, we held JKA DAN exam at Bulungan dojo in Jakarta, with 15 participants Shodan and Nidan levels. This DAN exam activity has been reported to Honbu, along with our request for the issuance of diploma for the graduating participants.
On August 18 – 20, 2017, we participated on The 14th Funakoshi Gichin Cup World Championship 2017 in Ireland by delegating 3 athletes (Axel Handy Putra, Muhammad Adriel and Meida Tri Suhariati), 1 coach (Suyana Sensei) and 1 team manager (Gunawan). In that event, Axel managed to be in Final 8 in the 5th position in individual Kata (16-18 years old), while Adriel was also in Final 8 in the 6th position for individual Kata (15 years old).
For the preparation of the Asian Games 2018 event, the local government of Jakarta is renovating all sports facilities, including the Bulungan Sport Center (where JKA Indonesia uses as the main Dojo). Starting from November 2017, we moved our training activities to new location at Dojo 313 (Jalan Margasatwa Raya No. 123, Cilandak, Pondok Labu, Jakarta).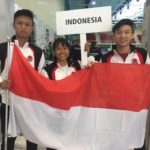 2018
On 23 – 25 February 2018, we held JKA Indonesia Camp 2018 which main activities of Gashuku and DAN Exam, led by Oishi Takeshi Sensei with assistance by Kurihara Kazuaki Sensei. This Gashuku was attended by 100 participants from several regions in Indonesia, consisting
of JKA Indonesia members and individuals from several shotokan karate schools in Indonesia who are interested in practicing and studying JKA-style karate.
There were 30 participants for DAN exam, consisting of 26 participants of Shodan level, 3 participants of Nidan level and 1 participant for Sandan level. Twenty three examinees successfully passed their exams.
During the JKA Indonesia Camp 2018, we also have received the official decree from JKA HQ(presented by Oishi Sensei) to the new JKA Indonesia management team as follows :
Chairman : Budi Saroyo
Secretary : Gunawan
Technical Chief : Suyana
Advisor : Abdul Latief
Directors : Armand Setiawan
Edwin Robert Yusuf
On the same occasion, we held the official inauguration of JKA Indonesia Honbu Dojo, marked by the joint signing of a marble plague by Oishi sensei representing JKA HQ and Budi Saroyo sensei as Chairman of JKA Indonesia. JKA Indonesia Honbu Dojo new address is located at Dojo 313 at Jalan Margasatwa Raya No. 123, Cilandak, Pondok Labu, Jakarta Selatan.
The event was widely covered by several journalists from major sport-related media in Indonesia, and also witnessed by all JKA Indonesia Camp participants and several guests from other karate organizations in Indonesia.
Thank you for your kind support and attention to JKA Indonesia.
Ossu
Budi Saroyo SSAP
Chairman of JKA Indonesia